NANCY HEINDL - artist
.
.
.
A gallery of Maryland art is on view at
GLADHILL FURNITURE in MIDDLETOWN, MD.
.
On exhibit are many very creative collages, beautiful watercolors and oils by several outstanding Maryland artists. Also included are five plein air oil pastels by Nancy Heindl of C & O Canal scenes, Sugarloaf Mountain, and historic barns in Frederick County.
.
"October View of Sugarloaf Mountain 12" x 16" oil pastel
one of the paintings in the show
.
The show is well worth the trip, not only for the outstanding art, but also the lovely and elegant furniture for which Gladhill has been famous over many years!
.
The show will remain through March, 2014.
.
GLADHILL FURNITURE
10 WALNUT STREET
MIDDLETOWN, MD 21769
.
.
_________________________________________________
.
.
WOMEN'S CENTER ART EXHIBIT
FREDERICK MEMORIAL HOSPITAL
7211 BANK COURT
FREDERICK, MD 21703
.
76 works of art were juried into this show.
SHOW RUNS THROUGH MARCH, 2014
.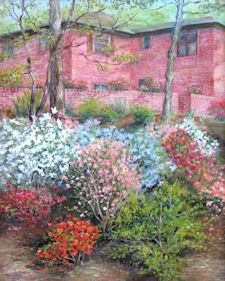 "Azaleas and Brick Wall" 16" x 20" oils
one of the paintings in the show
1493