Home Page
MARYLAND PLEIN AIR LANDSCAPES
paintings by Nancy Heindl
OILS ~ PASTELS ~ ACRYLICS
.
.
VIDEO: 41st ANNUAL SHOW OF RECENT WORK
.
.
Most recently completed:
"Autumn Peak on the Canal" Great Falls, MD 14" x 18" oil sticks
.
.
GALLERY LINKS:
acrylic paintings ~ oil pastels page 1 ~ oil pastels page 2

oil paintings ~ oil stick paintings(page 1) ~ oil stick paintings(page 2)
11 miniature paintings with display easels
OTHER LINKS:
news ~ recent and upcoming shows ~ fine art prints of original art
.
MINIATURE PAINTINGS: 30-day challenge blogspot ~ a painting a day for 30 days:
.
January 2017 challenge ~ FINE ART ON WOOD PENDANTS
.
January 2016 challenge ~FINE ART ON WOOD PANELS WITH DISPLAY EASELS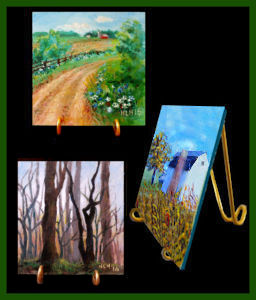 Over many years of painting I have worked in oils, and soft and oil pastels. Currently I am painting with R & F pigment sticks (oil sticks) and also trying acrylics.
.
I paint with plein air groups on-location in Maryland and nearby D.C., and have received many first place, popular choice and best-in-show awards, and the Grumbacher award for "best use of the oils medium". Over 1,000 of my paintings are now both in the U.S. and abroad. I exhibit in shows and galleries throughout the year, and annually have an open studio show of recent work.
.
ALL PAINTINGS ARE AVAILABLE FOR PURCHASE

For prices and information
e-mail: heindlart@outlook.com
MEMBERSHIPS:
Delaplaine Visual Arts and Education Center ~ Frederick Plein Air Artists
Oil Pastel Society ~ Plein Air Painters Meetup ~ Frederick County Art Association